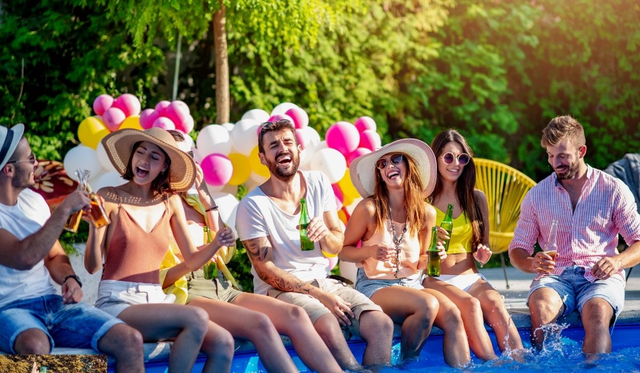 Pool parties are surely the best way to beat the summer heat. The only problem with pool parties is that you need to dress up in the right kind of clothes to not only look cool but also stay comfortable and enjoy the party the way you want. You don't want to sweat profusely in the middle of the party, nor do you want to look bad. It is imperative to wear appropriate clothing. Most of the time, people lose patience and shop for clothes from any shop. Nevertheless, you are not supposed to wear the same old shirt and pants.
There is a variety of clothes you can wear for a pool party. There are a lot of cool printed shirts available in the market that will not only make you look good but also stay cool. Many people don't pay attention to the fact that when they are going to a pool party, they should wear clothes that can soak up the sweat and those that can get dry quickly.
5 Best Outfits For Men To Wear At Pool Parties
1. Printed Shirts For Beach Look
Printed shirts look super stylish. And, these stylish shirts for men always give you beach vibes. Well, you really shouldn't forget to pick up your hat and sunglasses! Try combining your printed shirt with swim trunks. Slip-on shoes will match too! Think creatively about the designs on your shirt to make sure that it represents what you're about.
2. Tank Top For Pool Party
In recent years, several celebrities have made this clothing piece trendy at pool parties. A hat will look wonderful with a white tank top. White sandals are a great choice regardless of what color tank top you chose, but if it's white, go with silver! Sunglasses are an essential accessory for a pool party especially if the sun is out and shining bright!
3. Swim Trunks For Pool Party
The ensemble to wear to a pool party should consist of swim trunks, sunglasses, and sandals. When it came to choosing swimming shorts in your wardrobe, you may have some alternatives. Test with many varieties until you discover one that suits your natural skin tone.
4. Denim Shorts For Pool Party
You'll be expected to wear swim trunks. For men, denim shorts are also appropriate. Wear a sky blue shirt with open buttons. Combine it with a white t-shirt underneath. Hats aren't worn at such events, but sunglasses are appropriate for pool parties. White sneakers are worn with denim shorts
5. Usual T-Shirts For Pool Party
Although t-shirts have been a staple in the men's wardrobe for decades, it's easy to forget just how many different options are available in the world of men's clothing today like men's co-ord set. For inspiration on dressing like a classic pool party outfit, try pairing a classic white tee with your favorite pair of black swim shorts and then either slip-on shoes or sneakers!
.
Conclusion:
Conclusion: When determining what to wear to a beach or a pool party, there are a few vital factors to consider. The first step is to make sure that you are comfortable. You don't want something too tight or too loose. One thing to note is that you are not looking for the most fashionable look. You want to make sure you're comfy and also that you don't even have to bother about what you're wearing. Here are some attire ideas for you.