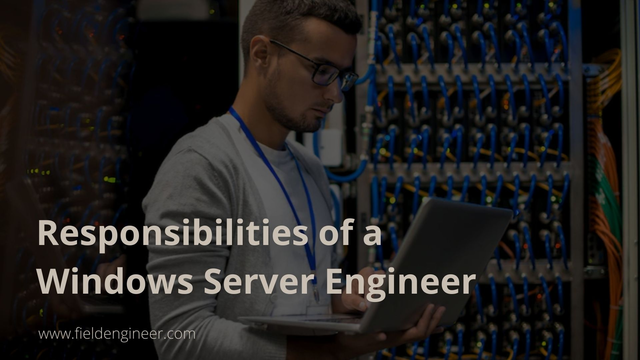 What is a server engineer?
A server engineer is someone who works with servers and network infrastructure. They help companies manage their data centers and networks by installing new hardware, troubleshooting problems, setting up security systems, and more.
Server engineers can work as employees, contractors, or consultants. Some may specialize in one area while others have broad knowledge across many areas.
Server engineers typically work remotely but they may also be required to travel occasionally. It's important to note that server engineers often work long hours, which makes it hard to balance family life and personal time.
Windows Server Engineer Responsibilities :
The following are some of the responsibilities and duties of a Windows Server Engineer.
Responsible for maintaining and operating Microsoft Windows Server products and services.
Provides technical support to users by responding to questions about how to use products and services.
Troubleshoots problems with servers, networks, and applications.
Resolves issues related to server hardware and software.
Maintains and configures systems and devices.
Maintains backups of data.
Performs routine system maintenance tasks such as installing patches, updating drivers, and rebooting computers.
Performs troubleshooting procedures to identify and resolve problems.
Assists customers regarding their computer needs.
Maintains and monitors network equipment.
Performs installation, configuration, and repair of networking components.
Provides training to others who work with networking equipment.
Troubleshoots network-related problems.
Researches new technologies and products.
Guides other employees.
Performs other job duties as assigned.
How much do server engineers make?
The median salary for a server engineer is $72,000 per year. However, this number varies based on experience, location, and industry. For example, computer programmers make about $100,000 annually, while those working in IT support earn around $50,000.
The Bureau of Labor Statistics (BLS) reports that the fastest-growing job fields for 2014 include:
• Computer Systems Designers
• Network & Security Administrators
• Software Developers
• Web Application Developers
• Database Administrators
• Information Technology Managers
What does a typical day for a server engineer look like?
Most server engineers spend most of their days either working remotely or traveling. A typical day for a server developer starts early in the morning when he/she logs onto his/her home computer. After checking email and social media accounts, the server engineer begins preparing for the day ahead. He/she may prepare a presentation or write an article before heading off to work.
Once the server engineer arrives at work, he/she spends most of the day working on projects. Depending on the project, the server engineer may be responsible for all aspects of the task including planning, execution, and management.
At the end of the day, the server engineer returns home and prepares for the following day. Most likely, the server engineer will go to sleep earlier than usual because he/she wants to wake up refreshed and ready to face another day.
What education and training are needed to become a server engineer?
To become a server engineer, you'll need to complete a bachelor's degree program with a major in computer science or information technology. In addition, you'll need to obtain certifications such as Microsoft Certified Solutions Associate (MCSA), Cisco Certified Network Professional (CCNP), CompTIA Security+ certification, and others.
If you already have a degree in a related area, you can still pursue a career in server engineering. For example, if you have a background in business administration, you could consider becoming a systems administrator instead.
This is a list of the top 10 best job alternatives for Windows Server Engineers.
1. Network Administrator
2. System Administrator
3. Database Administrator
4. Software Developer
5. Web Designer
6. Technical Support Specialist
7. Project Manager
8. IT Consultant
9. Computer Technician
10. Information Security Analyst
How do I build my portfolio to land a server engineering position?
If you're looking to break into the world of server engineering, you'll first need to create a portfolio. Your portfolio should include examples of your work, whether it's written content, presentations, videos, or anything else that shows your abilities.
The best way to build your portfolio is to take part in community activities. By participating in these activities, you can show employers that you're passionate about the topic and that you're willing to share your knowledge.
Where can I find jobs as a server engineer?
There are lots of places where you could apply for server engineering positions. You might start by searching online for "server engineer" and then see what comes up. Many sites like Indeed.com offer a free service that allows users to post their resumes and search through available jobs.
You can also look into local colleges and universities. These schools usually hire students after graduation, so they're a good place to start if you're just getting started in the field.
You can also check out career fairs and networking events. These types of events are a great way to meet people in your industry and learn about different opportunities.
Windows Server Engineer jobs at FieldEngineer.com :
FieldEngineer.com is an online freelance platform where people can find remote jobs. We connect companies with talented professionals all around the globe. Our goal is to make sure every candidate receives multiple offers from top tech companies.
Our mission is to help candidates build successful careers by providing them access to exciting job opportunities worldwide.