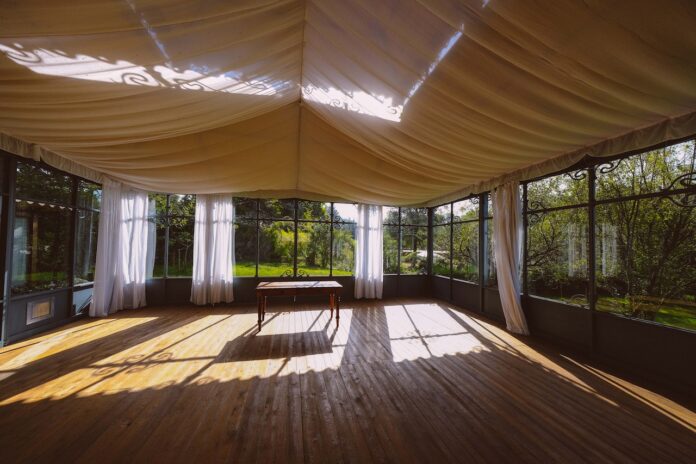 Want to create a shaded outdoor space in your backyard? Building your sun canopy is a great DIY project. With minimal supplies and some basic knowledge, you can easily construct an attractive sun-shielding shelter for your outdoor area. This guide will walk you through how to build a sun canopy in your backyard. Read on to learn more.
1. Choose Your Canopy Design
The first step in creating your sun canopy is to decide on the design. You have to consider some things when making this decision, such as its size and shape and the material.
For example, if you want a large canopy that will provide plenty of shade, you might choose an umbrella-style canopy made from heavy-duty fabric. For heavy-duty fabric, tarps are popular and come in various sizes, colors, and shapes. All you have to do is find tarps for sale and decide on the design that best suits your needs.
On the other hand, if you're looking for a smaller canopy that can be easily moved around, a pop-up style made from lighter-weight fabric might be a better option. Once you've decided on the design, it's time to gather the materials.
2. Measure and Gather Supplies
When it comes to materials, you'll need to ensure you have enough fabric and other supplies to construct your sun canopy. Start by measuring the area where you want to install the canopy. Then, use these measurements as a guide when selecting your fabric and other supplies, such as poles or frames. Make sure that whatever you choose is strong and durable enough to withstand outdoor conditions.
Additionally, pick up some cable ties or zip ties for additional reinforcement if you're using an umbrella-style canopy. Finally, get any tools necessary for installation, such as tape measures, hammers, and saws, depending on what type of frame material you use. Once everything has been gathered, it's time to start constructing the canopy.
3. Build the Canopy Frame
The next step is to construct the frame for your canopy. This will vary depending on your style, so be sure to read and follow any instructions with the materials.
If you're using poles or a pre-made frame, simply assemble them according to their instructions. If you make your custom frame out of wood or PVC pipe, get creative and cut the pieces in whatever shape and size you need for your backyard space.
If you use zip or cable ties, attach them to the poles or frame at the desired spots. When everything is in place, you should have a sturdy frame to hold your canopy fabric.
4. Install Fabric or Shade Cloth Over the Frame
Now that the frame is complete, it's time to add the fabric or shade cloth for the canopy. Start by draping the fabric over the frame and then securing it with zip or cable ties. Make sure that everything is evenly distributed and there are no gaps between pieces of fabric.
If you're using a pre-made umbrella canopy, install it according to the instructions in the package. When you're finished installing, check all sides to make sure your sun canopy is secure.
Additionally, depending on the type of canopy you have, you may need to install some kind of weight at the base. This will help keep your canopy in place, even with a strong wind.
5. Add Accessories
Now that you have your sun canopy installed, it's time to add some accessories. If you're using an umbrella-style canopy, consider adding outdoor lights or hanging plants for a cozy atmosphere. You can also use decorative fabric to cover the poles of your frame and make them blend in with their surroundings.
For additional protection from the sun, you can hang curtains or drapes around the edges of the canopy. These will help keep out any stray rays and ensure your space is always comfortable and shady. Also, if you use your canopy frequently, invest in a few extra supplies, such as stakes and ropes, for extra security. After you've added all the accessories you want, your sun canopy is ready to enjoy!
Conclusion
DIYing a sun canopy for your backyard is a creative way to add shade and style to your outdoor space. With the right materials and tools, you can easily customize your canopy for any size or shape of yard. Make sure everything is securely installed, and consider adding accessories for extra protection from the sun's rays.