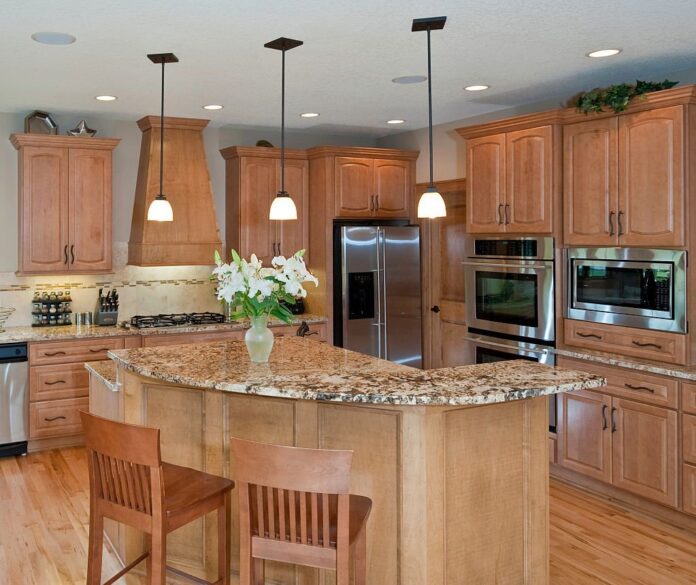 Walnut cabinets are popular for their rich and warm color and texture along with fine, smooth, and straight wood grains. Usually, walnut wood features deep chocolate to light reddish-brown color. The good is it is available in different finishes, too.
But you have to make sure that you have to pair the walnut cabinets with the right walls, countertop, appliances, hardware, and floor colors to make them look even more desirable. In case you are wondering what colors you need to use while refinishing, we are going to give you some of the best options that will complement your cabinets.
Paint Colors Going Well with Walnut Cabinets
Walnut cabinets in contrast to antique white kitchen cabinets are available with medium to dark brown undertones you can work with. Regardless of the darkness or lightness of the walnut color, neutral and earthy hues are a great choice.
As walnut RTA cabinets are mostly darker-toned and have a warmer paint color that has light hues and neutral tones to look best with them.
Subtle blues or gray is going to work best on walls with medium-toned walnut kitchen cabinets.
The light graycolor is a good choice for walnut cabinets that can go well with sage green, gray-blue, vanilla cream, off-white, and French vanilla shades on the kitchen walls.
Dark shades of walnut cabinets tend to go well with mint, blue-gray, or other green shades.
Countertop Colors that Go Well with Walnut Cabinets
For kitchen countertops, light colors, such as gray look incredible with walnut cabinets.
Gold, brown, beige, and white are other popular countertop choices for pairing medium brown and dark brown walnut RTA kitchen cabinets.
Pairing your countertop with the same coloras the cabinets might make you look very bland.
Rather than light-colored countertops are the best bet as they will brighten up your kitchen, all the while blending well with light and dark shades of the cabinet.
In case you pair dark walnut cabinets with countertops, you can choose from the colors given below-
Beige
Creamy white
Golden shades with a brown undertone
Crisp white
White with an undertone of gray and usually cooler shades of gray will go well with medium-toned walnut kitchen cabinets.
You can select a colorful backsplash to tie things together.
Hardware Colors Best Suited for Walnut Cabinets
No matter it is antique white kitchen cabinet ideas or walnut cabinet ideas, you will find many options available in terms of hardware. Let's take a look at the most popular hardware colors.
Gold
Gold hardware is the most common choice and will make the cabinets look rich and bold. It will look beautiful with a walnut undertone, developing a bright and elegant look.
Polished Silver
A crisp and neutral color, silver is a great choice for making the kitchen look refined and polished. It will go well with lacquered and waxed walnut, particularly in creating a Scandinavian-inspired kitchen.
Silver is an incredible choice for cabinet handles and pulls. However, if you use silver knobs with glass tops, it will make the kitchen appear even more modern and luxurious.
Tan-Colored
Tan and walnut come with similar undertones. Thus, when they are paired together, they can be cohesive and monochrome in appearance. It is a color that will give a slight contrast to the wood without being too bold. The color might even change based on the light in the kitchen.
Black
Black is a timeless color and is one of the most common choices. Its neutrality makes it flexible enough to go with everything. The neutral color goes well with walnut as it can balance out the walnut wood's tones and looks great with all types of countertops. With this, you don't have to worry about the hardware color clashing with the countertop or wall color.