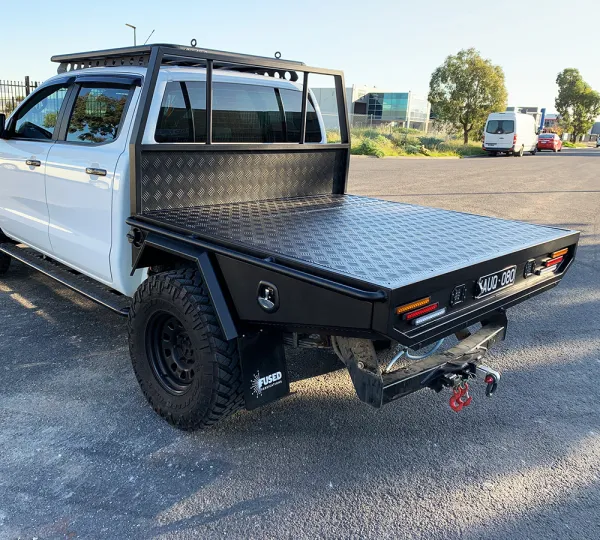 A custom ute tray is an option worth considering if you're in the market for a truck, whether for business or play. A custom ute tray is a better investment than a factory original equipment manufacturer (OEM) tray since it is tailored to the individual demands of the buyer. Please read on to learn more about custom ute trays and their many benefits.
Advantages of a Custom Ute Tray
As was previously said, they have several advantages.
Utes provide many extra features that are convenient for their owners and users. Yet a custom ute tray is just what you need if you want to get more out of your truck, say by adding extras. You may quickly improve your vehicle's practicality by installing a custom ute tray since it can be made to meet the buyer's specific needs.
If you often transport expensive tools and equipment in your truck, investing in a bespoke ute tray may ensure your possessions' safety. The ute tray may be outfitted with lockable storage compartments to secure your tools and equipment. It's a good idea to have a custom tray built with multiple sections. Tools, equipment, and personal items may all be stored separately.
Personalisation: If you want to have a custom ute tray created, you may modify your vehicle to suit your unique needs and preferences. To get started, choose the ute tray material (steel or aluminium) and offer details about the desired shape, size, and colour.
It is possible to deduct the cost of a bespoke ute tray from your taxes if you regularly use your vehicle for business purposes.
POSSIBLE APPLICATIONS FOR A TRUCK TRAY
An assortment of uses exists for personalised Ute trays, such as:
Tradespeople may save time, effort, and energy by using bespoke ute trays to transport all their tools and materials to the project site.
Campers may efficiently utilise a modified truck to store and transport their goods nationwide. In some instances, the ute tray may even serve as a bed.
A customised ute tray is an indispensable storage and transportation solution for fun sports like fishing, boating, and surfing.
CUSTOM UTE TRAYS: OPTING FOR THE RIGHT MATERIAL
Steel and aluminium are the two most common possibilities for a custom ute tray's construction. When deciding between the two, it would be best to consider the vehicle's intended purpose and operating conditions. When selecting a choice, keep the following in mind:
Steel is often twice as heavy as aluminium in terms of weight. Therefore, if you care about minimising your car's kerb weight, aluminium is the material of choice. The weight of the vehicle is affected by the weight of the ute tray. Thus a heavier tray means less payload capacity.
Steel is the most acceptable option if you need a ute tray that is stronger and stiffer because of its intended use. Compared to aluminium, steel has a stiffness of up to three times more significant and a strength of up to four times more.
Unlike steel, aluminium does not rust. Hence aluminium trays do not need sealing to prevent corrosion. Those who want to use their car near the seaside might benefit from installing an aluminium tray.
Apart from that if you want to know about then visit our Business category.