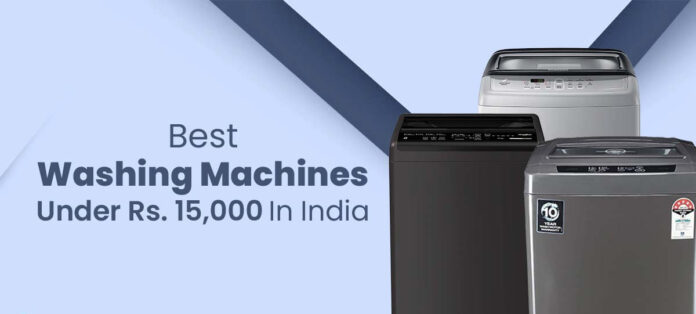 Washing machines are a need in the world of appliances. They enable you to finish your laundry quickly and manage your time effectively so that you can attend to other tasks or activities. A semi-automatic washing machine necessitates a little more manual labor in contrast to an automatic washing machine. It does laundry using the traditional method of using one tub for washing and another for drying.
But let's say you want to manually take care of your clothes during the washing and drying cycle. You also would like to make a purchase at a lower cost. You need a semi-automatic washing machine in that situation. Consider semi-automatic washing machines if you are looking for the best washing machine under 15000. You have total control over your laundry in this situation. You may manually take clothes out of the washtub whenever you wish to rinse and set them up for a natural dry. Alternatively, you can choose to use a machine to dry bulkier clothing. This division of work enables the machine to consume modest amounts of water and electricity.
Semi-automatic washing machines help you manage your clothes easily. It lets you take out clothes from the machine while it is already working. Check out the list below to get the best washing machine under 15000.
LG Semi-Automatic Washing Machine 8 kg (P9042R3SM) – This LG semi-automatic washing machine has a large capacity and is ideal for a household of six to seven people. It contains a lint collector that serves as a filter and gathers all the lint from your clothing in one location. It prevents lint from blocking the output drainage pipe. Additionally, this machine has three wash routines that you may choose from based on the kind of garments you plan to wash. In addition, the roller jet pulsator rotates at the proper angles to optimally control water flow to your laundry. It brushes off dirt and mites from your clothing to give them a fresh yet clean look. The price of this appliance is Rs. 13,449.
Samsung Semi-Automatic Washing Machine 7.5 kg (WT75M3200HB/TL) – This is the best Samsung washing machine with a price of Rs. 11,490. A family of three can use this Samsung semi-automatic top-load washer with a 7.5 kg capacity. The machine's tub rotates at 740 RPM. This is appropriate for a machine of this size. This washing machine is shockproof in addition to having a manual display.
Godrej Semi-Automatic Washing Machine 8 kg (WS 800 PD) – The semi-automatic washing machine's toughened glass lids and rust-proof polypropylene body increase the appliance's longevity while also enhancing its aesthetic appeal. The machine also includes a 5-year motor guarantee in addition to a two-year overall comprehensive warranty. Additionally, the washer washes your clothing completely while using a small amount of water by soaking them using the spin shower technique. Here the price is Rs. 12,700.
LG Semi-Automatic Washing Machine 10 kg (P1045SGAZ) – This 10 kg washing machine includes a roller jet pulsator for the ideal wash and is ideal for a family of four. Additionally, this device has an air-dry feature for speedy drying and simple cleaning. This washer offers gentle washing while maintaining the fabric's resilience. This machine spins at a speed of 1,350 RPMs. You can get this appliance on the Bajaj Mall for Rs. 15,000.
Haier Semi-Automatic Washing Machine 8 kg (HTW80 – 1159) – You can have more peace of mind knowing that this Haier semi-automatic washing machine is covered by a 5-year warranty. Additionally, it features a Magic Filter that can capture lint from your clothing in two ways while it is being washed. Additionally, it forces water to flow into your clothes using the spin shower technique. It boosts the machine's effectiveness. This ensures that all of the clothing gets an excellent clean by spreading the detergent and water equally. The price of this product is Rs. 12,160.
Whirlpool Semi-Automatic Washing Machine 9 kg (ACE XL 9.0 30194) – This top-loading semi-automatic Whirlpool washing machine is the best washing machine under 15000 for a medium-sized family. This machine is both energy-efficient and spins at a 1,400 RPM rate. This machine also contains a turbo impeller, a lint filter, and 3D scrub technology to wash the clothes thoroughly yet gently. The price here is Rs. 12,590.
Samsung Semi-Automatic Washing Machine 6.5 kg (WT657QPNDPGXTL) – T The EZ wash tray feature on these machines easily scrubs clothing and gets rid of stains. In addition, the machine offers advanced functions, including a double storm, soaking, and air turbo drying system that effectively washes and dries the clothing. Best Samsung semi automatic washing machines simplify your laundry needs.Lastly, the washing machine is also portable because it has wheels that make it simple to move. You can buy this product for Rs. 10,350.
Read More about: https://newsdest.com/category/home-improvemnt/