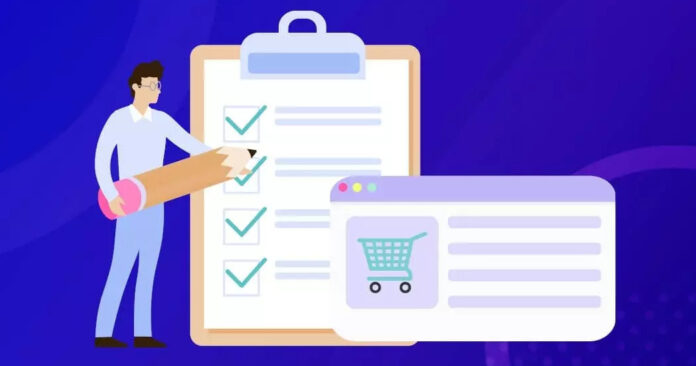 When they first start making an ecommerce website, many new business owners feel like they're in over their heads. But knowing what to do fights half the battle. Knowing every step, you need to take in these first few months will help you get closer to the success you want.
In short, here is an ecommerce website checklist suggested that will help you make the best website:
Use a custom domain
Build your standard pages
Optimize your check-out process
Do eCommerce SEO
Set up email campaigns
Install an analytics tool
Test store before launch
As you set up your new online store, the next few months will be busy, but with our checklist, you can cross things off to see how far you've come.
Compulsory Ecommerce Website Checklist for New Store Owners
1- Add your own domain name
A custom domain name is the first and foremost thing on an ecommerce website checklist. Choosing a unique domain name for your online store helps people recognize your brand and remember your web address.
2- Create Your Standard Pages
Any online store needs a few pages where useful information about the business can be listed. Some people who come to your business will want to know about you and how you started it. Some people will look around your website to find out more about the products you list.
About page: Tell your customers your business, how it started, and your brand values.
Contact page: tells customers how to get in touch with you.
FAQ page: If many people ask the same questions about your products or services, you can save time by answering them on a FAQ page.
Terms of service: What does your product or service come with? What kinds of legal policies do you have in place to protect yourself?
Privacy: This page discusses how you use your customers' information. Most of the time, lawyers can tell you how to word your privacy policy so that it is legal.
3- Improve the way you check out.
How easy it is to check out can make or break your chances of making a sale. So, one of the points of the ecommerce website checklist is making sure check-out parts are smooth. With online shopping cart abandonment rates getting close to all-time highs, it's smart to reduce problems and fix mistakes at check-out. When you're checking out, make sure:
4- Work on SEO for Ecommerce
Google is the platform where most of your customers will start when looking for a product. A web design services company will help you pull the perfect strategy for your ecommerce website. It's important to ensure that your website comes up when customers search for words related to your products or services.
There are several steps to ecommerce SEO, such as:
Research on keywords:
Optimization of keywords
Optimize images
Create a sitemap
Improve how well a website works
Market with content
5- Set Up Email Marketing
Email marketing is in the middle of an ecommerce website checklist, but a great way to reach out to new customers and keep in touch with the ones you already have. On Shopify, you can choose from several email apps to set up sequences that keep your customers happy and, in the end, help you make more sales. Set up the following emails using an app like Shopify Email or Klaviyo.
6- Tools for data analysis
Analytics is the key to making a store work well. The right data tells you what kinds of products your customers like best when they are most likely to buy, and more.
7- Test Before You Launch
Make sure your audience has a good first impression of you by testing your website carefully before you launch it. Check that each and everything works as it should and that there are no broken links or pages that won't load. All devices should be able to use your site well (including mobile).
Conclusion
Most of us already use checklists for important things and events. Checklists help us ensure that no steps in a process are missed or forgotten. In the same way, an ecommerce website checklist can help you ensure your online store's opening goes as smoothly as possible.